Get smooth, silky, and shinier looking hair using the Ceramic Hair Straightener Brush!

3 in 1 Function ceramic iron straightener + detangling brush + anion hair massager! Instant heat-up and recovery. 1 minute heat up to 365℉ -  8 Seconds to get a silky straight hair. 
Customized  safe 

410℉ 

temperature for natural texture hair, 450℉ for thick or wavy hair


The anti-frizz ionic technology ensures that unlike other straighteners, this brush does not dehydrate your hair. 


Effortless and efficient styling. Professional straightening iron brush, at an accessible price. 


Digital LCD display shows the operating situation on a clear and active screen. 


10 TIMES FASTER - Than the traditional hair straightener speed, operation is simpler and faster
NO DEMAGE – The Straightening brush is safe to use and will never damage your hair

EASY & COMFORTABLE – The electric comb is designed for a daily use - get a straight hair in no time
Care for your hair: this hair brush straightener works in a low temperature which won't damage our hair, anti-static technology reduces the amount of negatively charged particles and remove fizzyness.


Care for Your Head: This digital hair straightener is a combination of a hair straightener and a comb, while making a beautiful hair it gently massage your head at the same time


Multi-Functions: Ceramic iron straightener, detangling brush, and anion hair massager together, gives you a comfortable experience during straighten your hair


Faster Straightening & Styling: This straightener brush design for reaching an ideal temperature in seconds. 

This new and improved method of hair styling combines the average hair straightener with a detangling brush, making straightening hair as easy as combing it. You can get a beautiful result and have a silky straight hair in just a few minutes by using the  electric ceramic hair straightening brush. Stop struggling in the morning, wasting your time on the traditional products. Hair straightener. Comb reaches the ideal temperature in just a few seconds, and it will make your hair straight very quickly.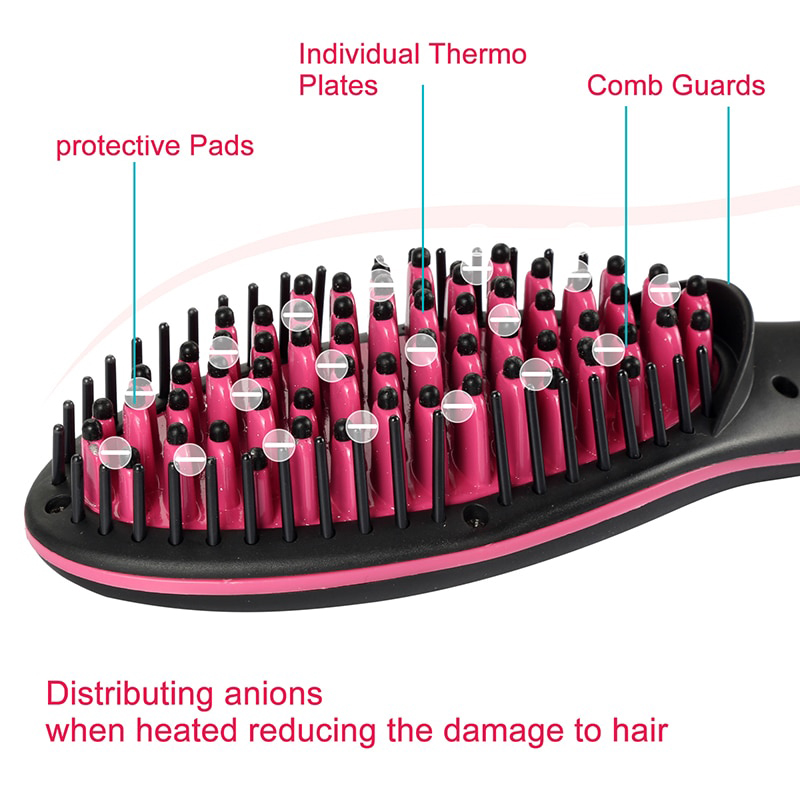 Optimal styling time: 3-5 min.
Service life: More than 50,000 use
Min. temperature: 180 °C
Max. temperature: 230°C
Applicable hair: Dry & wet
Power: 50-60W